Check out our many offerings for alumni and other members of UTeach Nation. We're always updating this page, so please check back often!
Master Teacher Professional Development
All UTeach Master Teachers are welcome to join this professional development series by Master Teachers for Master Teachers. Last Friday of every month.
Upcoming MTPD
How the Pandemic Inspired Field Experience Co-Teaching
Dr. Jennifer Smith and

Dr. Shelly Rodriguez, University of Texas at Austin, UTeach Austin
Friday, September 30 from 1-2 p.m. CT
We'll discuss the impact of the pandemic on the classroom preparation of students entering CI and the strategies we implemented to better support them. In the fall 2021 semester, we worked with mentor teachers to implement a co-teaching model to support students in developing classroom teaching skills. This strategy was so successful that it was permanently adopted
into the field experience and adapted for Step 1. Come to this session to see how this strategy is implemented in both courses and consider how to implement it in your context.
Previous MTPDs
ACPs That Rock! How to Increase STEM Teacher Production and Create an ACP — UTeach-style! — August 2022
Dr. Paige Evans, University of Houston, teachHOUSTON
"Let's Talk": How educators can grow to be more effective communicators inside and outside the classroom — May 2022
Pam Kirkland, University of Texas at Dallas, UTeach Dallas
Practice Makes Perfect: Using Practice-Based Teaching Methods in UTeach Courses — April 2022
Katie Donaldson and Amin Lalani, University of Texas at Dallas, UTeach Dallas
Developing Pedagogical and Technological Content Knowledge Through a Step III Course — March 2022
Kenneth Jones, Columbus State University, UTeach Columbus
Redefining Culturally Relevant Praxis Through Wholeness and Community Engagement — February 2022
Yolanda Kirkpatrick, University of Tennessee Knoxville, VolsTeach
How Not to Take Things Personally, or at Least Try — January 2022
Youth Mental Health First Aid Training
Learn to identify, understand, and respond to signs of mental illness and substance use disorders within youth in your community.
UTeach and Clover are proud to present this virtual training. Participation includes viewing a 2-hour prerecorded webinar prior to attending a live training led by Sunny Naughton. Access to the webinar and training will be made available upon registration.
This training is FREE*. Spots are limited. More information (PDF).
---
UTeach Career Day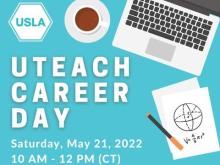 The UTeach Student Leaders Association (USLA) is partnering with the UTeach Alumni Network to host the first annual UTeach Career Day! All UTeach pre-service teachers and alumni are invited to attend this free, virtual event.

Participants can choose between an Induction and Leadership Track with topics including: what it's like to be a . . . first-year teacher, coach/club sponsor, team lead/curriculum coach, or full-time teacher in graduate school.
We will also be introducing a Mentorship Program that will be open to all UTeach students and alumni. Register here.
---
If you have an idea for an PD offering, please let us know!
---
Past Offerings: Recordings and Resources
UTeach Alumni Mid-Semester Slump Event

UTeach PD - Thursday, October 29, 2020
Schoology and Instructional videos

UTeach PD - August 18, 2020
Zoom meeting recording

Schoology resources

Bitmoji Classroom with resources for Instructional Videos
Implementing Projects Remotely & Remote Learning Assessment

UTeach PD - September 1, 2020
Zoom meeting recording

Resources for Implementing Projects Remotely

Resources for remote and blended learning assessment
UTeach PD held interactive conversations over blended, remote, and hybrid learning. Topics were chosen based upon participant input. 
Virtual Inquiry Lesson – Electric Circuits

Sumudu Lewis of UTeach UMass Lowell, September 16, 2020
Computer Science Professional Development
Free Micro-credentials from UTeach Computer Science
UTeach Computer Science provides free micro-credentials on a variety of research-backed skills. These micro-credentials allow any K-12 educator to personalize their learning and highlight the competency-based skills they've developed. View micro-credentials.
Professional Development for AP Computer Science Principles or AP Computer Science A
UTeach Computer Science provides College Board–endorsed professional development for AP Computer Science Principles and AP Computer Science A, which may be substituted for an AP Institute. During the engaging online PD, teachers master foundational course content and AP requirements while practicing collaborative, project-based instructional strategies. View upcoming professional development options.
Webinars from UTeach Computer Science
UTeach Computer Science provides free, public webinars on a variety of topics for computer science educators. View upcoming webinars.