Two UTeach Alumni work together on a math problem
UTeach Alumni
We're dedicated to supporting UTeach alumni long after you've graduated, because we know you're a lifelong learner and educator. Once a UTeach alum, always a UTeach alum.
Anyone who completes a UTeach program at any of our 50 partner universities is a lifelong member of the UTeach STEM Educators Association and the National UTeach Alumni Network. Being a UTeach alumnus qualifies you for ongoing education opportunities for free or at a discounted rate, as well as for exclusive access to an online community of fellow UTeach alumni.
USEA Benefits for UTeach Alumni
Free Access to Workshops
All UTeach alumni can attend virtual professional development and induction support opportunities offered by UTeach programs across the network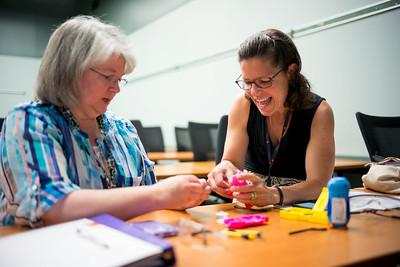 UTeach STEM Educators Conference
Receive members-only pricing to our annual UTeach STEM Educators Conference held in June.
These events are designed for UTeach alumni and STEM educators who are passionate about inquiry-based learning. Delve into hands-on education, network with like-minded peers, and attend sessions that have direct relevance to you and your students.
Learn more about the UTeach STEM Educators Conference.
UTeach Nation Virtual Network
Connect with your community in an online, collaborative space where you can share ideas, get and lend support, and access a career center, member directory, and more.
Keep your contact and employment information up to date in your member profile to be sure that you never miss out on new or ongoing USEA member benefits.
Log into the UTeach Nation Virtual Network and connect with your UTeach alumni community. Issues logging in? Contact us at info@uteach.utexas.edu.
UTeach Professional Development
UTeach alumni receive member rates for our award-winning, online UTeach Professional Development (PD) courses. Our offerings, developed and led by Master Teachers at UTeach Austin, will build on your content knowledge, promote inquiry-based and project-based learning, develop your leadership capacity, and create professional learning communities of STEM educators.
Learn more about UTeach Professional Development.
Computer Science Curriculum & Professional Development
UTeach alumni receive a 10% discount on our College Board–endorsed AP computer science curriculum and professional development. Licenses include project-based, personally meaningful curriculum for AP Computer Science Principles and AP Computer Science A, along with on-demand teacher support and access to our professional learning community. In addition, we also offer free micro-credentials for K-12 educators interested in computer science.
Staying in Touch
Staying in touch means you'll never miss out on any of your member benefits. Fill in the member form or update your profile in the in the UTeach Nation Virtual Network to keep your membership information up to date.
Because our alumni stay in touch, we know that students of UTeach educators outperform their peers on state content exams. UTeach educators also stay in the teaching profession longer, and 69% are working in Title I schools. See more research on UTeach impact.