The USEA Executive Board is the governing body of USEA and is responsible for establishing policy and setting direction for the association. It meets three times per year (face-to-face and via web conference). The board consists of the president, vice president, past president, secretary-treasurer, and three members-at-large. At least one member of the board should be a UTeach Master Teacher, and at least one member should be an alumnus of a UTeach program.
Learn how to serve on the Executive Board.
Read about the goals Abria Harris has for the Executive Board. 
USEA Executive Board, 2023–2024
Mariam Manuel, President 
Instructional Assistant Professor / Master Teacher, University of Houston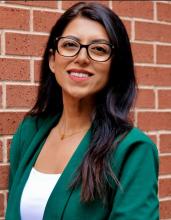 Dr. Mariam Manuel (she/her) is a Clinical Assistant Professor for teachHOUSTON at the University of Houston. Dr. Manuel, a former high school physics teacher, teaches undergraduate STEM education courses and has authored and taught graduate level coursework in Engineering Design Education. 
Dr. Manuel's experience in the classroom as well as working with students from diverse backgrounds informs her research interests— STEM teacher education for diverse learners and the use of culturally responsive instruction in STEM with a focus on engineering design. Her research on the intersection between engineering design and culturally responsive pedagogy was awarded the Best Paper and Best DEI Paper at the 2022 Association for Engineering Education (ASEE) conference in the Pre-College Engineering Education Division.
Dr. Manuel serves on multiple grants including the National Science Foundation (NSF)-funded STEM RISE program, which has earned state-wide recognition for providing mentorship to participants. She was recently awarded a grant funded through the NSF Racial Equity in STEM Education program for the project, Advancing Racial Equity for Youth in Alternative Schooling Systems through Culturally Responsive STEM Programming. Dr. Manuel actively publishes journal articles, book chapters, and presents at national research conferences. She is recipient of state and national awards recognizing her efforts in STEM teaching and mentorship. 
Abria Harris, Vice President / President Elect 
Clinical Faculty / Master Teacher, Florida State University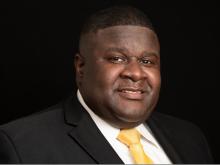 Dr. Abria J. Harris is a Clinical Faculty/Master Teacher for the Florida State University FSU-Teach program. He is also a proud graduate of FSU-Teach. He received his Master of Education degree in Curriculum and Instruction from Grand Canyon University and an Ed.D. in Educational Leadership and Policy from Nova Southeastern University in Fort Lauderdale, Florida, with a focus on improving teacher recruitment and retention in rural school districts. His research interests include STEM teacher preparation, STEM diversity and inclusion, and the development of teacher leaders.
Dr. Harris joined the FSU-Teach faculty in 2021. He teaches Step 1, co-teaches Classroom Interactions, coordinates Mathematics Apprentice Teaching placements, and co-facilitates the Apprentice Teaching seminars. Before joining the FSU-Teach faculty, Dr. Harris taught middle school mathematics and served as a district mathematics instructional specialist for the Gadsden County School District in Florida.
Dr. Harris has received numerous awards and recognitions for his contributions to mathematics education and his community, most notably the Florida State University College of Education Trailblazer Award in 2020. The Trailblazer Award recognizes alumni who have significantly impacted their profession, contributed to their community, and shown promise of continued success. In addition to his local work, he has made significant contributions to the UTeach STEM Educators Association (USEA). He has served as the co-chairperson of the Equity and Racial Justice in STEM Teacher Development summit since 2021 and is excited to further USEA's mission through his role as the Vice President/President-Elect.
Mary Enderson, Immediate Past President 
MonarchTeach Co-Director, Old Dominion University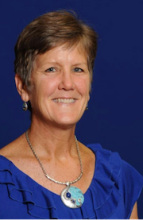 Dr. Mary C. Enderson is an Associate Professor in the Department of Teaching & Learning in the College of Education & Professional Studies at Old Dominion University (ODU). She led efforts in obtaining state funding to replicate the UTeach model for ODU — the first university in the Commonwealth of Virginia to join the UTeach network. She has been co-director since the program began in 2012 and is active in teaching, researching, and supporting the program at various levels.
Dr. Enderson received her Ph.D. in Mathematics Education from the University of Georgia, Athens, GA. She began her mathematics career teaching at the high school level and from there moved into the higher education arena. She has held positions at two other universities prior to arriving at ODU in 2012. Dr. Enderson's research interests focus on STEM teacher preparation, mathematics and STEM literacy, mathematics coaching, and Modeling & Simulation in STEM teacher preparation. She has strong interdisciplinary research connections that have resulted in research endeavors in areas that have connections with mathematics. Dr. Enderson is committed to the UTeach philosophy and believes that recruitment of diverse students into UTeach programs is critical to the success of middle and high school students selecting future careers in STEM fields.
Christina Steel, Secretary / Treasurer 
Senior Lecturer and Co-Director, College of Sciences, Old Dominion University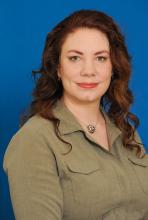 Dr. Christina Steel is a Senior Lecturer in the Department of Biological Sciences in the College of Sciences at Old Dominion University. She joined the MonarchTeach program in Spring 2016, developing and teaching Research Methods with the first cohort of students, and continues to teach this course. She has served as the College of Sciences Co-Director since 2019.
Dr. Steel received her PhD in Biomedical Sciences from Eastern Virginia Medical School and Old Dominion University (joint program) in Norfolk, VA. She began teaching as an adjunct at Tidewater Community College in 2008 and at Old Dominion University in 2010 before moving to a full-time lecturer position in 2013.
Dr. Steel's research interests focus on models of viral encephalitis in mouse models and molecular characterization of skin responses in human in-vitro models. She strongly believes that the UTeach model will help create strong, diverse future teachers who use inquiry- and project-based learning that models authentic scientific practices, and will create a more welcoming, enabling classroom that shows diverse students that they can and do belong in STEM. that knowledge and learning are for all.
Alexandra Eusebi, Member-at-Large 
Assistant Professor of Practice and Academic Director, UTeach Access, 
The University of Texas at Austin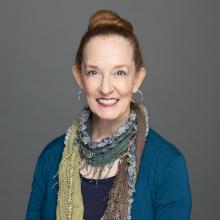 Dr. Alexandra Eusebi joined the faculty of the UTeach program at the University of Texas at Austin as an assistant professor of practice in January of 2019. She instructs and supports multiple courses in the College of Natural Sciences and College of Education, including Introduction to Inquiry-Based Learning (Step 1), Introduction to Inquiry-Based Lesson Design (Step 2), and Project-Based Instruction (PBI). Besides working with university students, Dr. Eusebi facilitates and writes curriculum for UTeach Austin's Professional Development group. She has recently developed a new workshop on Designing PBI for the Blended Classroom. Additionally, Dr. Eusebi works with Texas State's Mathworks program as a Master Teacher and curriculum writer/editor.
Dr. Eusebi is the Academic Director for UTeach Access — a new co-enrollment program between the University of Texas and Austin Community College. The program's goal is to increase the number of highly qualified STEM educators in Texas classrooms. UTeach Access provides additional pathways toward secondary STEM certification for underrepresented students. The first cohort for the UTeach Access program will begin classes fall of 2022.
Dr. Eusebi earned her PhD in Chemical Engineering from the University of California, Los Angeles. She has been working in education and teaching for over 20 years and has 14 years of experience teaching and writing curriculum for secondary mathematics. 
Madison Staton, Member-at-Large
Science Teacher, Butler Country High School, Morgantown, Kentucky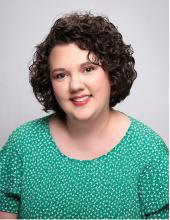 Madison Staton has been teaching environmental science, biology, forensics, anatomy and physiology, and integrated science at Butler County High School for four years. Her commitment to community-based education led her to become a STEM leader in her school district. She plays a critical role in planning STEAM Bus activities to inspire local, underserved students to pursue STEAM opportunities at community events. Madison's dedication to STEM education extends beyond the Butler County School District — she has served as an Astronomy teacher for the Kentucky Governor's Scholars program for the past five years. With a passion for engaging all students in STEM education, Madison provides her students with hands-on experiences and real-world connections that inspire her students to pursue their interests in STEM and develop the skills and knowledge necessary to succeed in the 21st-century workforce.
Madison earned her bachelor's degree in Middle School Science Education through the SKyTeach Program at Western Kentucky University. She also has a master's degree in education in Curriculum and Instruction with an emphasis on Educational Technology from Purdue University.
In recognition of her outstanding contributions to the field of science education, Madison was chosen as the Kentucky Science Teachers Association's President-elect. In this role, she is committed to advancing science education in Kentucky and promoting STEM careers to students across the state. Madison's dedication to continuous learning and professional development has earned her a Rank 1 in STEM Leadership from the Green River Regional Education Cooperatives Rank Change program.
Michael Ralph, Member-at-Large, Alumni Representative 
Senior Associate and Researcher at Multistudio, UKanTeach Alumnus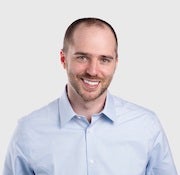 Michael Ralph is a Senior Associate, Lead Researcher at Multistudio. He was an award-winning biology educator in the Kansas City area, where he was the recipient of the Outstanding Biology Teacher Award in 2014 and the NABT Genetics Education Award in 2016. He also worked as a Master Teacher at the Center for STEM Learning at the University of Kansas, where he was the recipient of the USEA Outstanding Master Teacher Award in 2020 for his work teaching Research Methods and advancing Maker education in STEM. He now leads the Research Center at Multistudio, where he supports community engagement, study design, and project integration that connects education research, environmental evaluation, and learning space design.
Mr. Ralph's work emphasizes the importance of interdisciplinary connections in both educational scholarship and instructional practice. He holds a BS in Biology, an MS in Chemical and Life Sciences, and is a PhD candidate in Educational Psychology. He combines his experience in classroom praxis with his expertise in research methodology. He has published in biology teaching (Biology Rocks!) and in scholarly journals related to education policy, measurement, and curriculum. In his research he strives to elevate the voices of those living and working in each research context. He works as the principal investigator of the Gender Inclusive Design Study at Multistudio and as a collaborating researcher in the application of Universal Design for Learning principles in school spaces.
Kim Hughes, UTeach Institute, Ex-officio