We're proud to honor the following USEA award winners who have displayed passion and dedication for STEM disciplines. 
Jump to: 2020 | 2019 | 2018 | 2017 | 2016
 
2020
Special Award for Outstanding Contributions to STEM Education — Mariam Manuel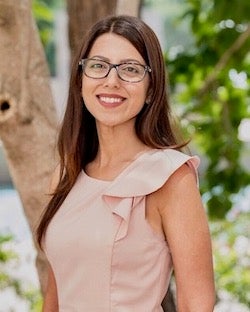 Dr. Mariam Manuel is a graduate from the University of Houston (UH) teachHOUSTON program, and the UTeach Engineering Education Master's program at the University of Texas at Austin. She is currently an Instructional Assistant Professor/Master Teacher for teachHOUSTON. Dr. Manuel earned her PhD in STEM Education through Texas Tech University with a concentration in Engineering Education. Her research involves exploring the intersection of engineering design and culturally responsive pedagogy as it relates to science and mathematics instruction. Dr. Manuel also teaches Physics for Pre-Service Teachers—a course that connects middle school physics content with inquiry-driven instructional strategies—and a graduate-level course, Fundamentals of Engineering Design Education. She is one of the writers and instructors for the Preparing for AP Physics MOOC. Before working at UH, Dr. Manuel taught Physics in Katy Independent School District, where she also served as a team lead, science instructional coach, and STEM instructional specialist.
Dr. Manuel is currently Co-PI on two NSF grants that have brought in a total of $3.9 million to UH for endeavors in STEM education outreach and teacher development, including a project called Enhancing Stem Teacher Leadership through Equity and Advocacy Development in Houston (LEAD Houston). 
Dr. Manuel serves as the faculty sponsor for student organizations and as an active member on the Houston-Area Regional Leadership Team for the Texas Girls Collaborative. She has served the UTeach STEM Educators Association (USEA) as an inaugural board member and has held the roles of Secretary and most recently Alumni Representative. She also chairs the National Publications Committee for USEA. Dr. Manuel organizes the annual UTeach Day on the Hill, through which she pioneers an advocacy effort to meet with leaders in the senate, congress, and department of education in order to share the impact by teachHOUSTON and other UTeach programs. Dr. Manuel is also the recipient of the 2018 Million Women Mentors Stand Up for STEM Award which recognizes efforts in mentoring young girls and women to pursue STEM related career pathways.
Outstanding Faculty Teaching — Martha Day, SkyTeach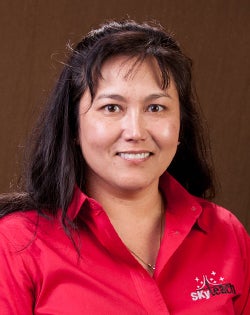 Dr. Martha M. Day serves as Associate Professor of Science Education and SKyTeach Co-Director at Western Kentucky University. In 2017, SKyTeach was honored by the UTeach Institute for preparing 243 STEM teachers, the highest number of graduates of any UTeach replication site—a number that is now over 300 and expanding. Prior to working as a university professor, Dr. Day taught high school chemistry and served as a principal with Metropolitan Nashville Public Schools for 15 years.  While working in Nashville schools, she was selected as Whites Creek High School's Teacher of the Year and American Chemical Society Nashville Section Chemistry Teacher of the Year.
STEM education has been Dr. Day's passion for the past 30 years. She has developed and taught 17 graduate and 16 undergraduate courses and has mentored and advised 99 graduate and 5 doctoral students in education. In course design, she places emphasis on the development of teacher dispositions with strong integration of clinical applications to course content. She has mentored numerous SKyTeach and graduate SKyTeach students in presentations at UTeach conferences with two winning "best poster" awards. She was awarded the WKU departmental faculty award for public service (2013) and student advising (2015) and the WKU award for student advising (2015).
Dr. Day serves as a Co-Principal Investigator on a National Science Foundatio– sponsored undergraduate STEM research grant developing and teaching problem-based biology units in rural Alaskan and Kentucky schools. She published a book chapter on SKyTeach and common core standards in Meet Me at the Commons in 2015.
As a founding USEA Board member, Dr. Day has served in many roles, including President and Vice President Board Member; she has also served on the USEA Awards Committee and the Leadership Development Committee. She also serves on the Kentucky Girls STEM Collaborative Advisory Board. She is a frequent national grant review panelist for the United States Department of Education and she serves as teacher trainer in STEM for science teachers in Tennessee and Kentucky. Dr. Day serves the informal STEM education community as a volunteer 4-H leader, horse judging and hippology coach, presenter at WKU's annual Girls in STEM Day, and LEGO Robotics judge.  
Outstanding Master Teacher — Michael Ralph, UKanTeach
Michael Ralph is a master teacher with the UKanTeach program at the University of Kansas. He began work with UKanTeach as a student, graduating with a certification to teach biology in 2009. He returned as a master teacher in 2017. He holds a Master of Chemical and Life Sciences from the University of Maryland.
Prior to rejoining UKanTeach, he taught high school biology courses in the Olathe School District in the Kansas City metro. During that time he was named the recipient of a number of teaching awards, including Kansas Outstanding Biology Teacher and the NABT Genetics Education Award.
Michael is now pursuing a PhD in Educational Psychology, with a focus on measurement in STEM education. He combines his experience and expertise in instruction with his training in psychometrics to collect robust evidence in support of effective teaching. His publications include works on instruction (such as both lab and modeling materials related to UTeach's Research Methods coursework) and measurement (including competency in optics and attitudes in organic chemistry).
Outstanding Staff Award — Monica Yates, UTeachRGV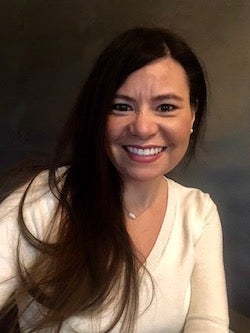 Monica Yates received a Bachelor of Science in Biology with a teaching certificate from the University of Texas Rio Grande Valley (UTRGV) formerly University of Texas-Pan American (UTPA).  She also attended Texas State Technical College (TSTC), earning a state license as a registered dental hygienist.  She attended Texas A&M to obtain a Master in Rural Public Health.
Monica is committed to helping her advisees achieve success. In her spare time, she utilizes her personal planner to reflect and to set goals.
In 2006, Monica worked with the College of Science and Math and with the College of Engineering and Computer Science. Since 2014, Monica has served as a UTeach advisor at UTRGV, providing essential academic advising for students throughout their stay at the university. Effective advising is complex therefore, Monica's years of experience plays an intricate role when establishing trust between advisee and advisor.
Monica's notable achievements include UTPA's Outstanding Service Award and UTRGV's College of Sciences Customer Service Award. She has also been recognized and celebrated as UTRGV's Unsung Hero. Monica celebrates not only for herself but for all students who deserve the recognition, because it is their accomplishments that validate the UTeach program.
Monica enjoys creating farmhouse crafts, spending time outdoors with her cows and calves, and researching her ancestr—a newfound interest. She would love to win a belt buckle one day at the Mercedes Rio Grande Valley Livestock Show for showing a heifer she personally raised.
Outstanding Alumnus — Kira Lowery, UTeach Austin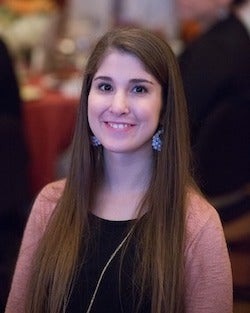 Kira Lowery graduated from The University of Texas at Austin with a B.S. in Biology and a UTeach certification for 7-12th grade Composite Sciences. After graduation, she began her teaching career at NYOS Charter School, a Title I school in the Austin area. As her career progressed she filled many roles throughout the school. In her 4th year of teaching, she was promoted to the Science Department Head.
During Kira's third year of teaching she was recognized as a UTeach Alumni in the UTeach Working Nation documentary short film "A Talent for Teaching". This documentary focused on how the UTeach program is helping to prepare teachers, like Kira, who are highly qualified and passionate about their content to become extraordinary classroom teachers.
In the Fall 2017, Kira joined the UTeach Maker program, led by  Dr. Shelly Rodriguez, to learn about how Making can be used in the classroom. Kira became one of the first UTeach Alumni to join UTeach Maker and graduated from the program in the Spring of 2018. She began using Making in her classroom, in fact creating the very first classroom Makerspace at NYOS Charter School. In Fall 2019, Kira transitioned into the role as UTeach Maker Mentor, guiding undergraduates through the UTeach Maker program.
Kira has taken the philosophies and practices learned from the UTeach Maker program and promoted them by co-writing and publishing two educational articles, The Cells and Me and Making Sense of the Human Body, for NSTA's Science Scope, "Making in the Middle".
Kira also strives to spread her love and passion for teaching by continually interacting with pre-service and in-service teachers in many ways. She currently holds a position as a UTeach Alumni Network Ambassador, where she communicates with the entire UTeach Nation about education resources and opportunities. For the past two years Kira has also served as a cooperating teacher and mentor for UTeach apprentice teachers and interns. Kira's goal is to inspire others to be extraordinary teachers who facilitate creativity and individuality in their students through their classroom experiences.
2019 
USEA President's Award
Larry Abraham, University of Texas at Austin
Outstanding Master Teacher
Shelly Rodriguez, University of Texas at Austin
Outstanding Staff Member
Erin Gonzales, UTeach Arlington
Outstanding Alumnus
Amieé Himler, UTeach Dallas
Special Award for Outstanding Contributions to STEM Education
Ariel Taylor, University of Texas at Austin
2018 
Outstanding Faculty Teaching
Dr. Greg Hale, University of Texas at Arlington
Outstanding Master Teacher
Rico Tyler, University of Western Kentucky
Outstanding Staff Member
Kim Distin, University of Texas at Dallas
Outstanding Alumnus
Jennifer West, UTeach Arlington
2017
Outstanding Master Teacher
Pamela Powell, University of Texas at Austin
Outstanding Faculty Scholar
Lisa Duffin, Western Kentucky University
Outstanding Alumnus
Janice Trinidad, UTeach Austin
Outstanding Staff Member
Lindsey Robinson, University of West Georgia
USEA Special Award
Tracy LaQuey Parker
USEA President's Award
Carrie Culpepper
2016
Outstanding Alumnus
William Kiker, UTeach Austin
Outstanding Faculty
Mark Daniels, University of Texas at Austin
Outstanding Master Teacher
Perri Segura, University of Houston